Misa Criolla
St. Dominic Savio cordially invites you to an Autumn concert to celebrate the closing of our Year of Faith.
Canticorum, a choir directed by Javier Romero, will present Sacred Classical Choral music and Ariel Ramirez's famous composition, Misa Criolla.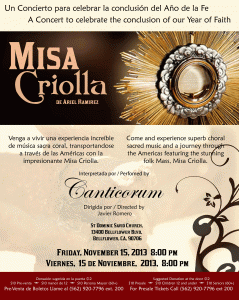 The concert will be in the church.  We invite all of you to join us on Friday, November 15 at 8:00pm
We are at all of the exits today selling tickets for this event.  The pre-concert price is only $10.